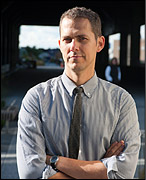 Friends of the High Line is the organization that pioneered the transformation of an abandoned elevated train line into a public space about 1.5 miles long on Manhattan's west side in New York City.
Robert and his Co-Founder Joshua David started the organization after attending a community board meeting to protest the High Line's demolition in 1999. Robert and Joshua are the authors of the book High Line: The Inside Story of New York City's Park in the Sky. Friends of the High Line receives support from members to fund the ongoing maintenance of the park, as well as the expansion of its third section, to be completed in 2014.
Robert speaks with Jessica about how he overcame fierce opposition to develop an unlikely public space, from scratch.