Jack Dorsey
Co-Founder, Square and Twitter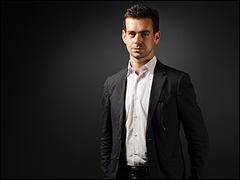 Jack is a serial entrepreneur who has started two companies — Twitter and Square — that, on the face of it, seem entirely different. Twitter is a social networking service; Square is a mobile payments company. But Jack believes that their shared purpose is to make each of their related tasks — communicating and transacting — easier. Twitter gets messages from point A to point B just as Square gets money from point A to point B.
Twitter has over 500 million users and gained global recognition when it facilitated the Iranian protests of the presidential election in 2009. Users type messages to followers using a maximum of 140 characters.
Square is a financial services company that allows any merchant to accept credit card payments through a device that plugs into a smartphone's headphone jack. One of the company's services, called Square Wallet, allows customers to buy products without having to use their actual credit card.
Jack speaks with Jessica about how he launched both Twitter and Square, from scratch.
This interview was conducted before Jack returned to Twitter and became CEO in 2015.